Do Big Things
Ways to Explore at Mount Rushmore
BY Katrina Salitros | APR 19TH, 2015 | CATEGORY: Attractions, Discoveries, Outdoor Adventure
Most of us can agree that Mount Rushmore is one of the top sites travelers want to see when in the Black Hills. Each year approximately 3 million tourists from all over the world visit this patriotic site. The four "great faces" of the presidents tower 5,725 feet above sea level and are scaled to men who would stand 465 feet tall. Seeing this for the first time, or even the fourth in my case is always astonishing. I always get very excited when I can see the carving on the drive up to the monument, and even more when I walk down the Avenue of Flags towards those mighty faces. Aside from admiring the massive sculpture, there's much more to do and enjoy while visiting Mount Rushmore.

Many amenities are included at the site including an Information Center, Mount Rushmore Audio Tour, Lincoln Borglum Visitor Center & Museum, the Presidential Trail, Youth Exploration Area, Sculptor's Studio, the Amphitheater, a parking garage with R.V. parking, pet exercise areas, the Carvers Café, Memorial Ice Cream Shop, Gift Shop and the Mount Rushmore Bookstores.

So much can be discovered through the tours, information center, museum and sculptor's studio. These facilities house major exhibits on the carving, including tools and models used in the construction of the monument. Here, you can also learn more about sculptor Gutzon Borglum, explore the history of the Black Hills and American Indian tribes who have populated this land for thousands of years, and enjoy a film at one of the theaters.

In case that isn't enough – head on outside for some fresh air. More views of the mountain carving are available through guided walks with a park ranger who can also explain information on Mount Rushmore and the Black Hills area. If you would prefer to explore at your own pace, the Presidential Trail and the Nature Trail are again wonderful options. While on the trails, wildlife and wildflowers are also commonly seen.

Are you bringing the kids? Check out the Junior Ranger program which is a perfect way for them to learn about Mount Rushmore through a guided booklet, and once completed, a badge and certificate will be awarded. MtRushmore00229
Something else you don't want to miss out on is the evening lighting ceremony. This program consists of a brief ranger talk, the "Freedom: America's Lasting Legacy" film and the lighting of the sculpture as the audience sings the National Anthem.
Whether you've seen Mount Rushmore countless times, or you're just about to embark on your first journey to the Great Faces, you do not want to miss out on everything the monument has to offer!
- See more at: http://blackhillstravelblog.com/things-to-do-mt-rushmore/#sthash.I61HDell.dpuf
Seeking Adventure and Peace in the Badlands
By Katrina Salitros | Apr 21st, 2015 | Category: Attractions, Discoveries, Outdoor Adventure -
I've lived in South Dakota (East and West river) for a total of 12 years. Five of those years I've called the Black Hills home and up until now, I had never been to the Badlands. Whenever driving back and forth across the state, I could see the peaks in the distance and always promised myself, 'one day', one day I'll take the time, but life would always get in the way. We always make excuses as to why we can't do something – even when it's something so simple that we know we would enjoy and need. I decided I could no longer make any excuses and I must get out and experience the beauty that surrounds me. Once I was there, I couldn't believe I had waited so long.

In case you've never been to the Badlands like I hadn't, here's a brief snippet of information.
The Lakota gave this land its name, "Mako Sica," meaning "land bad." Located in southwestern South Dakota, Badlands National Park consists of 244,000 acres of sharply eroded buttes, pinnacles and spires blended with the largest protected mixed grass prairie in the United States. It is desolation at its truest, where you can look for miles and see no sign of civilization.
Being that it was my first time, also that I'm horrible with my sense of direction, I chose to stick to the Scenic Byway. The Badlands are filled with trails, backcountry hiking and camping areas, wildlife, and an eerie loneliness. As soon as I drove into the entrance of the park I was blown away. Normally when I'm driving I prefer for my music to be loudly playing – here, all I wanted to hear was the nature around me. Once the opportunity presented itself, I stepped out of my vehicle and let the wind take over as the music in my ears.

The Badlands Scenic Byway is roughly 40 miles in total, but I could have spent all day just enjoying the scenery. Everywhere I turned there was a new view. As soon as I thought the peaks and ruggedness had ended, it reappeared out of nowhere. The prairie would show itself just as soon as the buttes gave in to the land. New trails and terrain surrounded me at every glance. The ability to look out and see for miles upon miles was breathtaking. Words simply cannot describe the beauty and sacredness of this land. As much as I enjoyed discovering this by myself and how adventurous I felt, I can only imagine what it would have been like sharing it with someone else. I don't think the smile ever left my face – I was in complete astonishment from beginning to end.

It was on this day that I realized we mustn't let life always get in the way. Having no cell service, no wi-fi, and no traffic, was the best gift I could have given myself, even if it was only for a few hours. The exposure of the Badlands broadened my horizons and gave me a much deeper appreciation for the area that I call home. Being there was only more proof that the Black Hills and Badlands are an inspiring place to take in, to visit and to live.
- See more at: http://blackhillstravelblog.com/adventure-in-the-badlands/#sthash.vscfxvm9.dpuf
Ten Favorite Free Things to Do in the Black Hills
By Mike | Mar 26th, 2015 | Category: Attractions
Traveling with families, some sort of budget is ever present, it has to be with so many mouths to feed and potential gift store purchases because its one for all, whatever that one may be. Vacation costs can become exponentially out of control if its not at least floating in the sub-conscious of one of the the controlling parties. That's the nature of the game but certainly never one that should prevent travel and quality time together.
A great thing about the Black Hills and Badlands is they are home to a bevy of stops and attractions, and a strong selling point for the region is how affordable so many are. Some even no-strings-attached free!
So as a father of two and with the married with children demographic in mind, presented here are ten favorite free things to do in the Black Hills (or very nearly anyways) in no particular order.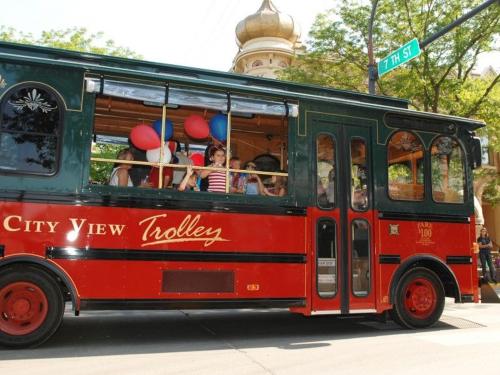 City View Trolley Tour, Rapid City – We promise free stops in the headline and then start the list with a nearly free item. "Of course," you say and we say, "Yes, of course we did but hear us out." Because this tour can encompass an entire day and includes stops at numerous free attractions with unlimited on/off access for only $2 per adult and $1 for kids 12 and under. It includes vintage fun stops like Storybook Island and Dinosaur Park, two family attractions that have been giving kids and their parents a great way to spend a couple of hours for generations. It also includes newer notable attractions like the City of Presidents and Main St. Square and more! The value of this offering really can't be beat.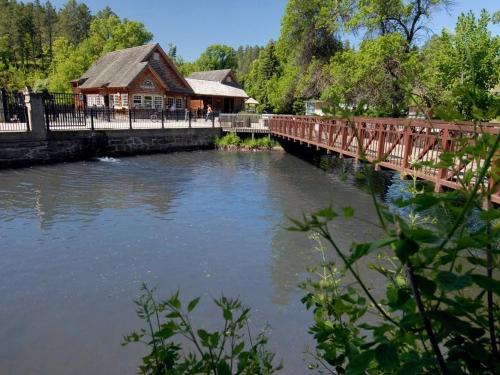 D.C. Booth Historic Natural Fish Hatchery and Spearfish City Park, Spearfish – The heart of Spearfish is very much evident to anyone who's come across the park and D.C. Booth on a zippity-do-da sunny day. The area is beautiful and the kids (and adults) love skipping stones in the stream and feeding the fish in the Hatchery with a $1 or $2 bag of fish food from the gift store.
Wall Drug Store, Wall – The Wall Drug Store is another quintessential Black Hills attraction that has spurred lively debate between Americana road side attraction or tourist trap for years. We say don't overthink it and enjoy all the quirky little things (and free ice water) that have made this such a popular free stop for generations as well.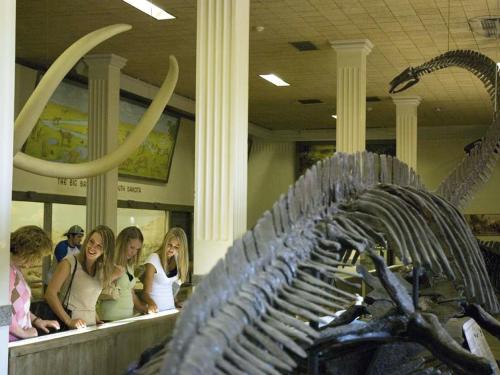 Museum of Geology, Rapid City – This free attraction located on the South Dakota School of Mines & Technology campus, houses an impressive collection of dinosaur fossils like a colossal Mammoth skull or triceratops skull plus shiny baubles, gems and stones that will blow the minds of ma, pa and the little ones.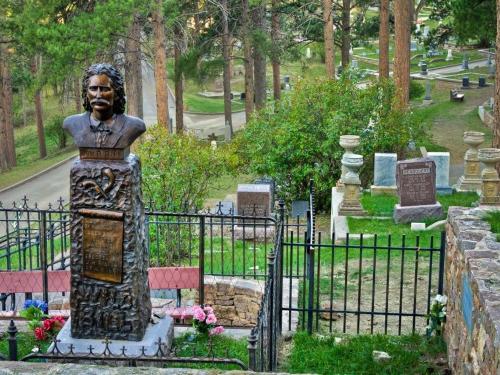 Mount Moriah Cemetery, Deadwood – The history and heritage of Deadwood is a colorful collection of western lore for sure, much of it now (hopefully) resting at Mount Moriah overlooking this legendary town. Granted its not a playground and could invoke discussion on some heavy concepts for young inquiring minds plus it costs a whopping $1 a piece for entry. But pony up the dough because its location and chance to hear/share some good western stories about Wild Bill, Calamity Jane, Seth Bullock and others make it a must see.
George S. Mickelson Trail, Hills-wide – This isn't technically free either but at $3 per rider its super cheap and one of the most immersive ways to experience the beauty of the Black Hills, whether by hiking, biking or horse-back riding. This 109-mile trail runs cuts through the center of the Black Hills, from north to south.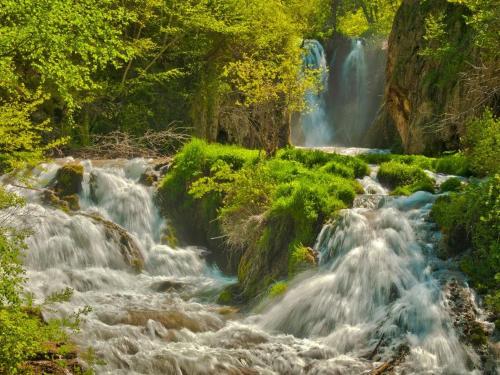 Roughlock Falls State Rec Area, Spearfish Canyon – I always mention this one as its a favorite stop of my family for years now and we're not alone in that sentiment. Park at Spearfish Canyon Lodge and take the easy Roughlock Falls Trail up to this serene waterfall. All ages appreciate the beauty of this place.
Black Hills National Forest Hiking Trails, Hills-wide – There are 1.2 million acres of public lands in the Black Hills National Forest and dozens of trails await within. Check out the Flume Trail, Harney Peak South Trail or Crow Peak Trail for some amazing time with the family exploring nature.
Outdoor Campus West, Rapid City – The outdoors are a big part of life in South Dakota and the amazing new Outdoor Campus allows visitors of all ages the chance to experience why. And for free.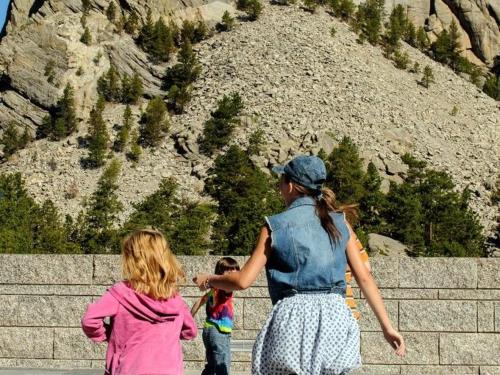 Mount Rushmore National Memorial, Keystone – For the sake of variety (and because we started this list with a not technically free attraction) we waited to mention America's Shrine of Democracy. Technically it is free but that would involve dropping off your better half with the children, parking in Keystone and then hiking two miles or so uphill to join them. I would just pay the $11 parking fee which will get you in absolutely free next time you visit; plus, averaged out between the bunch, we're only talking $2-$4 per anyways.
Of course, these are just a some of the free or inexpensive things to do in the Black Hills. With so many national & state parks, city parks, trails and otherwise, one can fill five days with amazing experiences including every town in the Black Hills while still holding to a budget (miserly or loosely).